Posted August 01, 2015 in Autobody Repairs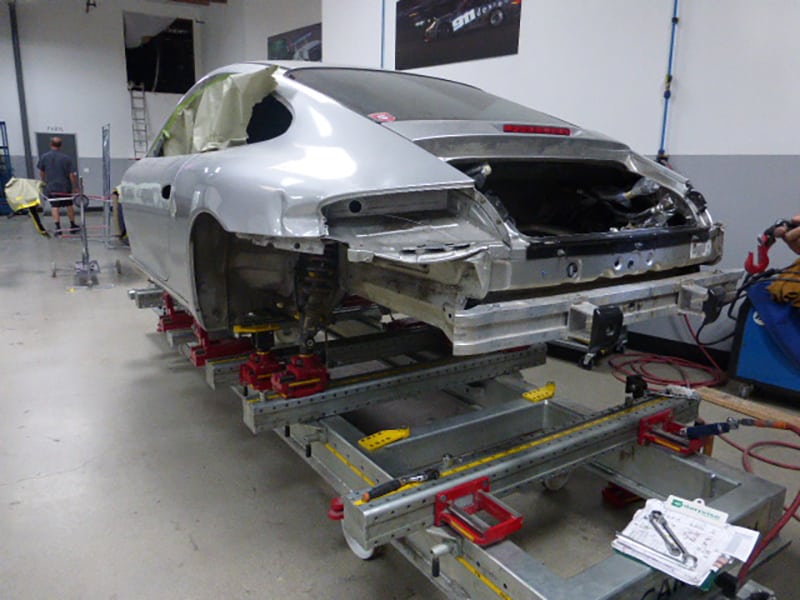 Our customer brought us his 2004 Porsche 996 GT3 for some severe accident repairs. Unfortunately the car was involved in an accident while at the track. The entire front of the car was shifted to the passenger side. We were tasked with restoring this car so that it can be driven in the street again.
The first step of the project was to remove the damaged parts and get the car on our Car Bench frame bench to begin straightening the chassis and ensure all of the body gaps are within Porsche factory standards. As one can see we had to completely remove the nose of the car and install a brand new genuine Porsche front end.
Once the front end was replaced it was time to remove, replace, and repair all of the damaged quarter panels. All panels that had to be replaced were replaced with genuine Porsche panels. We use only genuine Porsche parts when restoring a vehicle.
Next we had to prep the car for paint. We use only Glasuit paint at 911 Design; this ensures a proper color match when painting Porsche vehicles. We sprayed the car back to the original color using our state of the art Junair-Americas paint booth. First we lay down an epoxy primer, then the base coat is applied, and finally the clear coat is sprayed.
After we finished with the paint is was time to reassemble the car. We affixed all of the freshly painted quarter panels. We reapplied all of the seals that were removed and again ensured that all body gaps were within Porsche factory standards.
Now that all of the repairs have been made no one would ever suspect that this car was involved in such a serious accident. The owners were happy to have their car back.