Posted January 21, 2020 in Rebuild Porsche® Project
3 Min Read
In the next blogging series of Design Files, we will take you through our progress on a 1993 Porsche® 964.
This model, designed by Benjamin Dimson, was known for its sleek styling and was the first car to be offered with Porsche®'s Tiptronic automatic transmission and all-wheel drive.
We will take you through the process and additions we have made so far on this unique model.
Let's Start From Scratch
The first step is to strip the car down to the bare chassis and assess any immediate problems.
We then reinforced the entire chassis with stitch welds like Porsche does on the factory race cars. We also added a welded-in roll bar and an "X" brace overhead as we would be replacing the sunroof panel with a composite roof.
Stitch welding—also known as intermittent welds—adds strong, gapped welds along the seams of the body panels. This step prevents heat distortion and requires less filler metal, which saves you money in the long-run.
Mechanical Upgrades
We upgraded the suspension by adding ERP spring plates, ERP front suspension uprights, Brembo brakes, and adjustable sway bars. We refinished the trim and installed a carbon fiber decklid, trunk, and roof.
Performance car enthusiasts desire carbon fiber decklids and roofs because the carbon fiber drastically decreases the weight of the vehicle, which can increase the overall speed.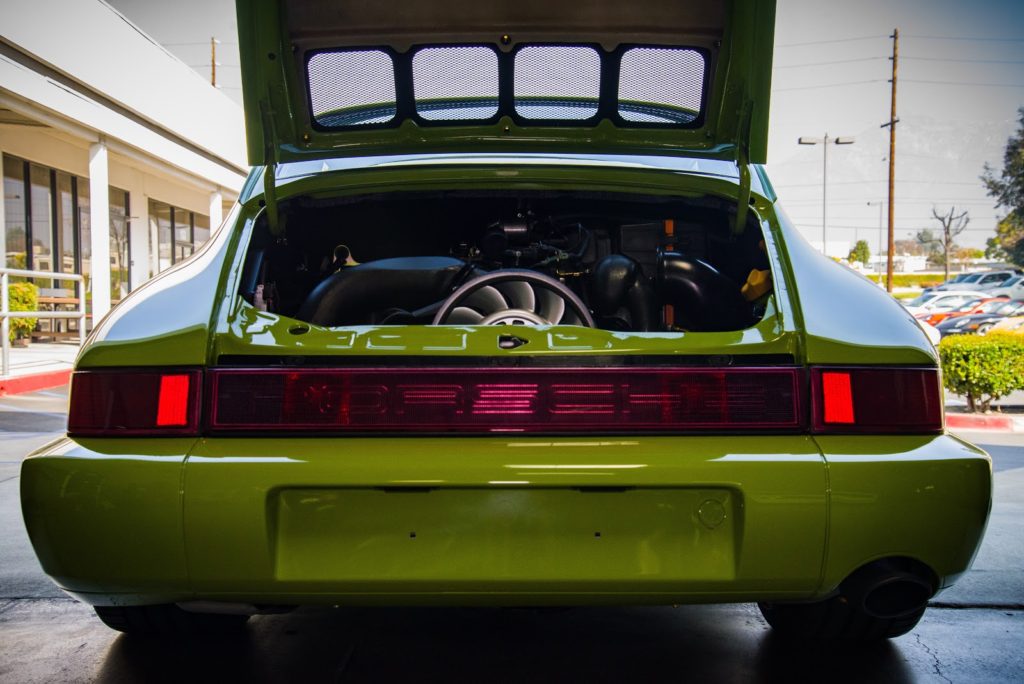 We are in the process of making a new front bumper. We had Martin Horton from Blu Point Scan come in to do a 3D rendering of the front of the car. From this, he generated a file to produce a new front bumper from ABS plastic. In the picture below, you can see the white dots applied to the original bumper during the scanning process. A full transmission upgrade was completed where we installed short third, fourth, and fifth gears as well as steel RS synchronizers and a Drexler tunable differential.
A synchronizer is part of a synchromesh manual transmission that allows for the smooth engagement of gears.
Cosmetic Upgrades
At 911 Design, we provide a full-service repair and restoration shop for Porsche® automobiles. We work directly with you to design, build, source components, and modify the engine or exhaust.
For this model, we applied a bespoke green color to the entire car with Glasurit paint and added a custom ducktail decklid along with 993 Turbo S brake vents.
We installed a Momo Prototipo Suede steering wheel. The steering wheel has a classic round rim with three cut-out spokes.
The inside is also detailed with an Alcantara® cover for the roll cage to protect passengers in the case of a rollover.
RECARO Pole Position bucket seats were installed for their light weight and function. This style offers structural support to your lower back and allows the use of competition belts for occasional track days.
We installed new knobs and switches, RS America door panels, and a silverknit RS carpet kit. .OE seat belts with Schroth four-point rally belts finalized our work for now.
Want to Learn More?
If you are interested in undertaking a similar rebuild or would like more information about our other services, contact our office in Montclair, California, at (909) 982-9111. 
911 Design is an independent business and is not affiliated with Porsche® Cars North America.