Posted January 17, 2018 in Waterborne Paint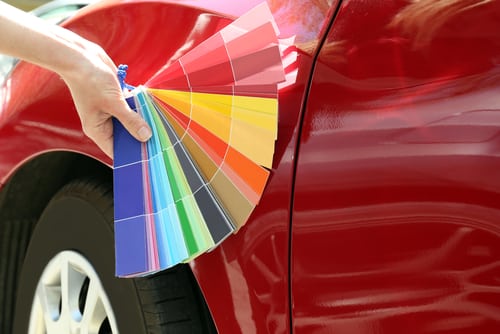 Because of a heightened awareness of environmental cleanliness, recent federal health and safety regulations now require automotive paint shops to use waterborne paints instead of solvent-based paints. Advancements in automotive paint technology have paved the way for newer, more environmentally friendly materials that surpass solvent-based paints in safety as well as the end result. While many shops are hesitating to make the switch from solvent-based to waterborne paints, the benefits make a stronger impact than the upfront cost of change.
Solvent-Based Paints
The new regulations on automotive production involve monitoring the amount of volatile organic compounds, or VOCs, used in painting materials. Solvent-based paints have a higher concentration of VOCs compared to waterborne paints, and these VOCs currently make a significant contribution to ozone contamination. Reducing the carbon footprint left by VOC-rich paint emissions can have a drastic effect on ozone sanitation. Solvent-based paints tend to dry faster than their waterborne counterparts, but modern ventilation tools help cut drying time with products that are up to code.
Waterborne Paints
Making the transition to waterborne paints can seem daunting, but the benefits of using regulation materials outweigh the setbacks. By investing in a spray booth that has adequate ventilation, such as the SprayTech® Junair booth, drying time with water-based materials is no longer an issue.
Some of the main advantages of waterborne paints are as follows:
Environmentally friendly: Produce fewer emissions, which are less damaging to the ozone
Safer for painting technicians: Come with reduced health risks for painters
Thinner application: Requires less clear coat due to thin, even application
Saturated color: Dries to true hue, unlike solvent-based paints
You can achieve the paint job you desire for your vehicle by finding technicians who are experienced with using waterborne paint. For code-enforced automotive painting services in Southern California, call 911 Design at 909.982.9112.