Located in the Southern California suburban city of Montclair, CA, 911 Design provides comprehensive repair and restoration services for Porsche® automobiles as well as other specialty vehicles of any make or model. Our state-of-the-art facility and technologically advanced equipment allow our skilled team of technicians to perform meticulous and customized auto work. Because our services are vertically integrated, we can keep all repair, custom fabrication, performance, and bodywork in-house. We received Porsche customers from all over Southern California, including Los Angeles, Ontario, and Riverside, and we also emphasize the importance of cultivating a strong and communicative relationship with our customers so we can deliver results of utmost satisfaction.
Quality Craftsmanship

Quality Craftsmanship

Because 911 Design has over 20 years of experience in club and professional racing, our service technicians are world-class. While all of our specialists possess general diagnostic abilities, each of them brings with them a specific area of expertise. Having a highly skilled team of industry and technical experts allows us to create customized approaches to our customers' unique needs.

Modern Technology

Modern Technology

911 Design is a new and fresh facility designed to optimize the auto service experience. It is equipped with sophisticated technologies, precise lighting, polished floors, and efficient workstations to ensure top-notch quality control. You can be confident that your specialty vehicle will be in good hands throughout the repair or restoration process.

Customer Service

Customer Service

We work individually with all of our customers to determine the most appropriate and cost-effective options that will meet their expectations. 911 Design prides itself on total transparency with our customers as well as punctuality and reliability. Our goal is to create an exceptional experience that our customers will share with friends and colleagues.
Meet the Owner
911 Design was founded by auto racing aficionado Loren Beggs, whose passion for the racetrack fueled his entrepreneurial journey. Beggs demonstrated his fierce tenacity at the age of 18 when he took on the challenge of personally building and fixing a motor for his first Porsche®. Over the course of 20 years, he expanded the company from a small garage business to a cutting-edge specialty establishment. Beggs and his growing team of accomplished technicians continue to apply their extensive knowledge of Porsche® automobiles to ensure quality auto results for customers both inside and outside of California.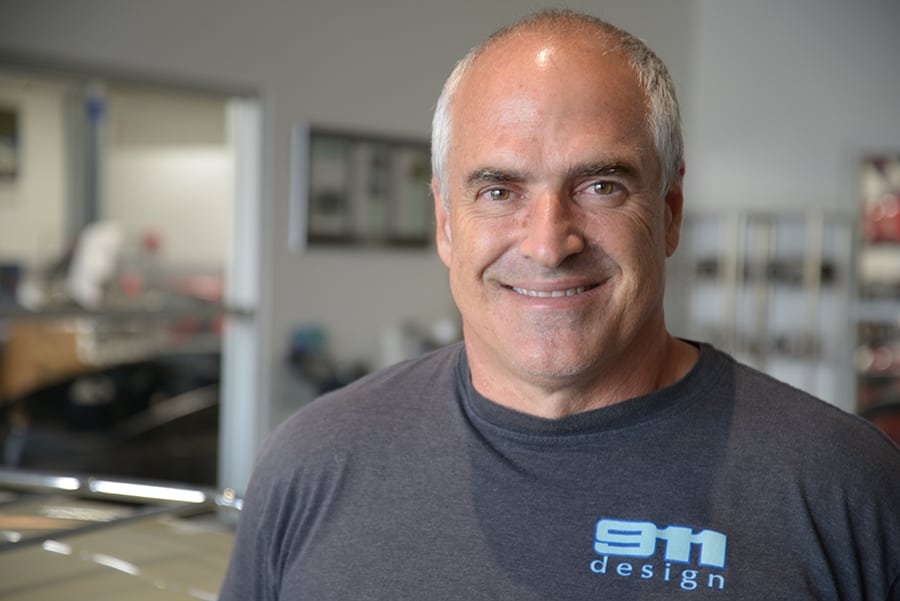 Collision repair
Refinishing
Aluminum and carbon fiber repair/replacement
In-house paint and customization
Body and frame straightening
Basic maintenance
Suspension
In-house paint and bodywork
Engine/transmission/exhaust
Restoration
Driving enhancement training
Design and custom fabrication
Suspension
Engine/transmission/exhaust
In-house paint and bodywork customization
Track service and support
Driving enhancement training